UPWA Charity Event THIS Saturday 7/30 – Wilmington, NC
TheUPWA.com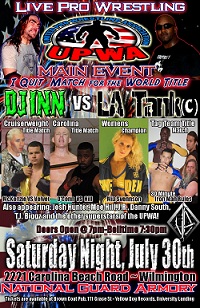 The United Pro Wrestling Association brings LIVE pro wrestling action THIS SATURDAY, 7/30 to the National Guard Armory, 2221 Carolina Beach RD in Wilmington, NC.
Proceeds will benefit Jimmy Kadnar, a retired New York City firefighter who responded to the World Trade Center attack on September 11, lost his home in a fire on July 5.
IN ACTION:
* UPWA Heavyweight champion LA Tank faces Djinn in an I QUIT MATCH!
* UPWA Tag champions The Beasleys defend against Smooth Excellence in a TWO OUT OF THREE FALLS MATCH
* UPWA Cruiserweight champion Christopher McKenzie is challenged by Amazing Velvet in a TITLE VS. CAREER MATCH!
* Also featuring UPWA Carolinas champion Tavare Hill, UPWA Women's champion Mia Svennson, Josh Hunter, Moe Hill, J.R., Danny South, TJ Biggz, & More!
Door opens at 7 pm, bell time 7:30 pm.
Presale tickets available:
* $10 TODAY at TheUPWA.com via PayPal
* $10 TODAY at Browncoast Pub and Theatre, 111 Grace ST, Wilmington, NC
* $10 TODAY at Yellowdog Records, University Landing, Wilmington, NC
* $15 THIS SATURDAY at The National Guard Armory, 2221 Carolina Beach RD, Wilmington, NC